AFFORDABLE MEDICAL VOLUNTEERING IN TANZANIA PROGRAMS
Affordable Medical volunteering in Tanzania Programs 2022 is our priority at KIVOLEX. We believe that volunteers shouldn't be in excess when they decide to help by Volunteering. Most Organization don't offer Affordable volunteering in Tanzania Programs, they charge lots of money to volunteers. We are able to keep our cost low because we only charge for your living expenses. Other organizations fail to keep volunteering fee low because they charge a lot as administration fee on top of Volunteer fee. At Kivolex we are quite different Affordable Medical volunteering in Tanzania Programs are paramount for us. We only charging our volunteers what is necessary for their stay and volunteering in Tanzania. This is evidenced in our Affordable volunteering in Tanzania free.
Our Affordable Medical volunteering in Tanzania Programs policy states that volunteers should only be charge for accommodation, food, airport pick up, and small allowance for staff who will be taking care of him. Every person with the will and desire to volunteer should be given the chance to volunteer no matter their financial status, that is our ethos. KIVOLEX is happy to see everyone is Involved into volunteering, whether rich or poor.
Our Affordable volunteering in Tanzania Program policy aims to offer equal opportunity to everyone with desire to help by sharing their skills and knowledge. KIVOLEX is a type of organization that will give you value for your money. Moreover Services such as Accommodation, food, and others are far better in terms of Value to the amount you pay. That is why we are able to provide affordable medical volunteering in Tanzania programs.
AFFORDABLE MEDICAL VOLUNTEERING IN TANZANIA 
KIVOLEX Medical Volunteering in Tanzania Programs are among few programs in Africa that are quite Affordable but at the same time offer Unique learning and helping experience. We are the only organization in Tanzania to be offering these unique and meaningful programs in medical volunteering in Tanzania. We proud ourselves that, our offering of Affordable Medical Volunteering in Tanzania Programs has helped a lot of of People especially students who cant afford a lot, to get involved in Volunteering in Tanzania medical programs.
Our goal is to see more and more people especially Youth and students afford to volunteer abroad. Volunteering at young age is Ideal, in most cases the right time to Volunteer is said to be during, after or right before university. However Its obvious that students and youth at this point aren't able to afford high Volunteer abroad fees. Hence to cover these students and youth into our Medical Volunteering in Tanzania Programs, we had introduction  affordable Medical volunteering programs and this was inevitable. KIVOLEX is happy to make Medical volunteering affordable to everyone.
MEDICAL VOLUNTEERING IN TANZANIA PROGRAMS
Medical volunteering in Tanzania programs are among projects that appeal attention of many volunteers. Our Medical Volunteering in Tanzania Programs house not only medical professional Volunteers but even International Medical students and Pre med students. Our medical Volunteering in Tanzania Programs are accessible in all three sites i.e Dar Es Salaam, Arusha and Zanzibar. Medical Volunteering Projects in Tanzania have subdivision subject to volunteer's Knowledge or Awareness. These subdivision include the following:-
Midwifery and Midwife Volunteering In Tanzania Projects
Nurse and Nursing Volunteering In Tanzania Projects
Medical students Internship Projects in Tanzania
Medical student elective Projects in Tanzania
Midwifery elective projects Tanzania
Nurse elective Projects Tanzania
Dental Care Volunteering Projects Tanzania
Optician or eye care Volunteering Project
Pediatrician Volunteering Projects
Midwifery and Midwife Volunteering In Tanzania Projects
Tanzania has had a high infant mortality rate, being among World's low Income countries, Tanzania efforts to alleviate themselves from this challenge has faced a lot of shortcomings. Credits to Tanzania Government for it has done a lot to reduce Infant Mortality rate. Evidence shows that in recent years there has been some incredible achievements in terms of reducing infant mortality rate. However the efforts of the Government alone are not enough, that is why we call upon all well wishers from allover the world with Skills and Knowledge in Midwifery to come and team up with local practitioners. This is going to enhance service provision in midwifery hospital departments which will eventually reduce infant mortality rate. 
Nurse and Nursing Volunteering In Tanzania Projects
Nursing is essential part of any healthcare system of any country in the world. Nurses are medical practitioners that spend most of the time with patients more than any other medical practitioner. Hence a nurse in Virtual in any healthcare system and having said that, shortage of nurses is a Program to any healthcare system respectively. Tanzania Faces a challenge of healthcare Practitioners and Nurses are among those in short supply. In recent years introduction of Nursing teaching Institutions has improved the situation, However the country still needs Nursing Volunteer from all over the world to come and support the Governments initiatives.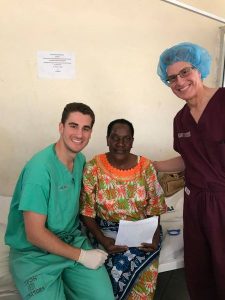 Medical students Internship Projects in Tanzania
For Medical students to learn effectively, its is advice to experience different working environment from what one used used to. Hence in recent years it has been a trend for International medical students to do their Internship abroad. Tanzania has been an ideal location for many International Medical students as it has offered these students the right environment for learning and career development as future medical Practitioners. KIVOLEX offers Ideal Internship Programs for Foreign and International students in Tanzania. Our Programs are designed to cover most of the requirements many International Medical students require. The Following are Medical Internship that our Program Covers.
Midwifery Medical Internship in Tanzania
Nursing Medical Internship In Tanzania
Dental Medical Internship in Tanzania
Optician Medical Internship in Tanzania
Pediatric Medical Internship in Tanzania
Medical Doctor Internship in Tanzania
Medical student elective Projects in Tanzania
The current trend of doing elective abroad is just like the trend for doing Internship Abroad. Tanzania has been home to many foreign students wishing to do their medical abroad elective in Tanzania. Africa as a continent and specifically Tanzania offers ideal destination for medical elective, this is due to the fact that majority of Medical Cases Problems are in Africa. Western world face low medical problems or cases due to developed healthcare service provision. Hence to learn and practice best as a students doing your elective in Africa is something Inevitable. because it is in Africa particularly in Tanzania that you will get to experience almost all major cases that your field of specialization is expecting you to learn. 
Below are some elective opportunities offered in Tanzania by KIVOLEX:
Midwifery Medical Elective in Tanzania
Nursing Medical Elective In Tanzania
Dental Medical Elective in Tanzania
Optician Medical Elective in Tanzania
Pediatric Medical Elective in Tanzania
Medical Doctor Elective in Tanzania
Dental Care Volunteering Projects Tanzania
Dent care among the citizens in Tanzania is another big problem, Most Tanzanians face dental challenges/Problems almost every year. Moreover Lack enough qualified dentists is contributes a lot in dental care problems that Tanzanians face. There are a few dental wards and dental hospitals in Tanzania. In some cases, you would find hospitals without a dentists or a dental ward. This is why There is a great need for Dental care Volunteers in Tanzania to come and supplement improvement efforts done by the Government and other private stakeholders.
Optician or eye care Volunteering Project
Volunteers with skills and Knowledge in eye problem caring and treatment are needed in Tanzania. The Tanzania health system had few eye specialized hospitals and clinics. The number of Opticians is also not enough as you compared patients per doctor rate. Tanzania is calling for help from all over the world for professionals and skilled individuals who would like to help by sharing their skills, knowledge and expertise to treat people with eye problems in Tanzania. Apply to today and make a different to the world and the community with eye problems.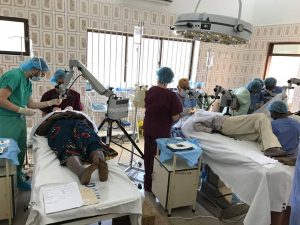 Pediatrician Volunteering Projects
To many medical Volunteers treating children has been one of the most rewarding programs. With a population of over 60 million people Tanzania is one of those countries with children as Majority of its population. More than 30% of the population are children and Tanzania is among countries with low rate of Pediatricians. The Government has done a lot over the years to improve this situation, however there is need to supplementing these efforts from well wishers and volunteers with sills and Knowledge in treating Children. Join our program today and make a difference in Tanzania. 
WHERE CAN I DO MY VOLUNTEERING IN TANZANIA?
Tanzania is a big country; it is almost three times the size of Italy. Volunteers are allowed to volunteer anywhere in the country form the North to the South, East to west.  Tanzania has around 30 administrative regions apart from Zanzibar Island. Zanzibar Island is separate and has its own administrative regions.
Although Tanzania is big, but organization that run volunteer programs in Tanzania, mostly cover not more than six (6) locations and these are:-
Arusha City
Moshi Town
Dar Es salaam City
Dodoma City
Mwanza City
Zanzibar
The main reason why these locations mostly attract volunteers is because of their geographical location. Most of these places have access to international airports. So it becomes easy for volunteers to travel to these areas. However it is also easy to access basic needs from these locations compared to other locations in the country. Services such as
Good Hospital,
Evacuation means,
ATMs machines,
Bank,
Transport,
Electricity
Water
Are easy accessible in these locations. Safety of our volunteers is also very important and that is why we put efforts in selecting locations that can assure them of their security.
Hence if you are thinking of where to volunteer then choose anyone of the six locations mentioned above and you will definitely find something to do in those areas.
HOW MUCH DOES IT COST TO VOLUNTEERING IN TANZANIA?
An Investment in terms of money is needed to volunteer in Tanzania. Most volunteer programs in Tanzania are not very expensive. They are actually in a range where most volunteer can afford and even students. To answer the question how much it would cost you to volunteer in Tanzania; we have to look at several factors that determine volunteer fee. These factors include:
The Type of organization you are volunteering with
The type of accommodation you have chosen
The type of Program you have selected
The location of that particular program
In most cases, volunteer program fee wouldn't exceed $300 per week. Most Volunteer fees are in a range of $150 per week to $300 per week. The above factors determine what the program volunteer fee is. On top of the volunteer fee, you could also budget for at least $150 per week for your won daily expenditures.  These costs do not include the cost of your weekend trips, tours and safaris.
WHAT ARE THE DIFFERENT TYPES OF VOLUNTEERING IN TANZANIA?
The major types of Volunteering in Tanzania can be simply group into four (4) major groups. These groups are believed to represent all other subtypes of volunteering in Tanzania. Before we look into these different types of volunteering in Tanzania, you have to note that almost 98% of all volunteers in Tanzania are free volunteers, meaning in Tanzania Volunteers are not paid at all. Now let dive and see the different types of Volunteering in Tanzania:-
Medical Volunteering in Tanzania
Social Volunteering in Tanzania
Community Volunteering in Tanzania
Educational and teaching Volunteering in Tanzania
The list above represents the types of Volunteering in Tanzania. If you have any question regarding this, please feel free to ask us and our team will be more than happy to elaborate to you.
WHY VOLUNTEERING IN TANZANIA?
Why volunteer in Tanzania in 2022? At this point, you could be asking yourself this question. There are hundreds of volunteer sites around the globe, so you may be wondering why Volunteer in Tanzania. I am going to show you some reasons why volunteers choose destination Tanzania.
Volunteer work in Tanzania has been progressively growing in modern years. This factor alone is an important indicator that Tanzania has a lot to offer. However, we have decided to break down for you, main factors our volunteers use to deciding on destination Tanzania. These factors are:-
Ideal Country position
Meaningful Projects
Local talents and language
Natural Attractions
Value for money
WHAT IS MY VOLUNTEERING IN TANZANIA ACCOMMODATION LIKE?
We have two types of accommodations in our of locations of Arusha and Dar Es Salaam. In Zanzibar we only have one accommodation type and that is Volunteer house.
Volunteer House
The House used for Volunteers is a modern one and hence offers modern accommodation. The house has five bed rooms and all rooms are equipped with bunk beds for easy sharing of the room with other Volunteers. The house has two bathrooms and all our bathrooms are modern and western style bathrooms. Hot water for shower is not guaranteed but you could have it occasionally.  The house is very secure and safe; it is within a compound with a wall fence and a large metal gate. There is always a security guide making sure everything is secure. We have a cook and a house manager who are always at the house to make sure volunteers are well fed and that there is order in the house. We request you apply for a volunteer house early because spaces are limited, only 18 volunteers can be accommodated at the same time.
Homestay Accommodation
Life at the homestay is basic and at least all our homestays have electric and running water. All our homestays are safe and secure. Some volunteers prefer home stays because to them the authentic felling of volunteering in Africa is important and they believe that can be achieved by staying in a homestay. All homestay are well inspected and vetted to make sure our volunteers stay in very secure accommodation.
WHAT MEALS TO EXPECT WHILE I VOLUNTEERING IN TANZANIA?
You will receive two meals a day. Breakfast usually consists of tea (toast), toast, cereals, fruit and mandazi (fried flour). Dinner is usually served with meat and vegetables such as charcoal, pancakes, squash and standalone.
WHAT IS INCLUDED IN MY PROGRAM VOLUNTEERING FEE IN TANZANIA?
Program placement and supervision.
Support and Preparation of your trip before arrival.
We only do Airport pick up (You are responsible to arrange your own transport to the Airport on your last day).
Orientation which also include town tour
Accommodation Room & Food (Breakfast & Dinner)
Your Room housekeeping
Dedicated local coordinator
Your Volunteering Fee doesn't include the following
$150 USD contribution to placement facility
Airport transport on departure (can be arranged)
VISA and PERMIT fees
Wifi (You have to pay for internet access).
PROGRAM VOLUNTEERING FEE
All fees are in US $
| | |
| --- | --- |
| Length of Program | Program Fee |
| 2 weeks | $570 |
| 4 weeks | $880 |
| 6 weeks | $1,280 |
| 8 weeks | $1,685 |
| 10 weeks | $2,085 |
| 12 weeks | $2,355 |
| Registration Fee | $210 |
| Additional Week | $120 |
FINAL THOUGHTS ON VOLUNTEERING IN TANZANIA
It is very important to understand (and accept!) That Tanzanian culture is completely different from what you are accustomed to. Therefore, it is imperative to open your mind and arrive in Tanzania. Ask them to travel in a "follow the flow" attitude. You need to be motivated, motivated and motivated by minimizing your daily driving. It is especially important to understand that the cost of the program and volunteers alone will not change the living conditions or livelihoods of the local population, nor will your actions produce immediate solutions.
But what you bring to them spiritually can change their lives forever. Maybe yours will change.
You should look forward to a modern home with common living and dining room. Accommodation has electricity, share Bedroom, BBQ.  Foods are being set by the staff to share with the family/Volunteers. Expect a mixture of western and local food – if you want something, there are supermarkets in Dar es Salaam. The time is now, join this unforgettable volunteer in Tanzania trip of a life time.
YOU MAY ALSO BE INTERESTED IN THESE PROGRAMS
CHECK OUT THIS PROGRAM

Tanzania Winter Volunteer Program 2018 Tanzania winter volunteer program 2018 is another opportunity to volunteer ... Read more
CHECK OUT THIS PROGRAM

Volunteer in Tanzania with volunteerkivolex.co.tz Volunteer in Tanzania with KIVOLEX and get a chance to ... Read more